For Sale Moto Guzzi Lemans ΙΙ red (1980)
SOLD!
EXCLUSIVE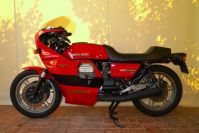 For Sale Motoguzzi Lemans II 1980
Video:
The 850 Le Mans II in General

By 1978 it was time for an upgrade of the Le Mans series, which was introduced in 1975 with great success, creating one of the best sports bike of the decade. The effort was mainly concentrated around aerodynamics, aiming at increasing rider's wind protection and increasing top speed. Therefore, the new bodywork was designed in the well known wind tunnel, making it optically relative with the 1000 SP, Guzzi's 1000cc touring bike. New instruments, full and easy to read completed the changes. Front brake calipers were turned behind the suspension, the distance between the forks was increased and wheel base was increased by 15 mm. Apart from these, series II later introduced NiCaSil cylinder liners, a patent of Guzzi, giving cylinders greater durability.
The Le Mans II is most all round one. It is suitable for sports riding, touring, and also for raining conditions. Some object to the fairing aesthetics and the weight added forward, but even for them there are immediate, gorgeous and economical solutions in aftermarket full fairings.
A few words about the motorcycle on sale

I don't think there has been any other Le Mans found in worse condition. It initially gave the impression that it was fished out of the sea after spending some years in the sea bottom… But let's take it from the beginning: in an Athens suburb car breaker the remains shown in picture was found in the beginning. Everyone who saw it didn't believe it would ever become a bike again. However, when it was later fully dismantled the reason of its appearance became evident. It had probably been in a flooded garage, possibly during the excessive and disastrous rain levels some 15 years ago. In the bellhouse there was a clear waterline sign! Thankfully and by pure luck (camshaft was resting in a position of all valves closed) there was no water ingression cylinders or crankcase. Therefore, there was no damage at all in these critical areas. Naturally, everything was done as it should, with a big number of new spare parts in the engine and especially electrics, peripherals, bodywork etc, which skyrocketed restoration cost. Instead of the factory fairing, a Valpolini one (which had good reputation) was preferred, giving excellent optical result. The fairing's aggressive line, its own small clip-ons and the rosso corsa/flat black (factory) color which was painted tempted us to also fit the unique, factory racing exhausts from that era, which we had available. They have their own interesting story, having come out directly from Guzzi's racing department and having raced in Bol d' Or. When we took it out for its first ride few months later, the joy and adrenaline hit the sky. The sound of the racing silencers, the riding position, the high and almost handmade Menani rear sets combined with the low geared diff. fitted, all combine to send the rev counter in the reds before you ever know it. After some time in the traffic it is tiring, but on the open road you will not want to get off the bike. It's a unique sample that needs a very determined rider. Our age and body build do not allow us to enjoy it as much as we would like, the reason of selling it. It is ready to be classified as historic bike (FIVA class A3) with cost of 145 Euro.
LM2 running from Automotoclassics on Vimeo.
LM2 static from Automotoclassics on Vimeo.
Price € *
*including registration cost under the new owner's name and classic numberplates.
| | |
| --- | --- |
| | Moto Guzzi 850 Le Mans II |
| Year of manufacture | 1980 |
| Body maker | Moto Guzzi |
| Manufactured | 6.774 |
| Engine | V 90 air cooled |
| Capacity | 850 |
| Cylinders | 2 |
| Max power | 72 DIN / 7600 |
| Fuel system | 2 carburators (Dellorto 36) |
| Brakes | 2x 300mm disks front-1x240 disk rear / integral braking |
| Drive | Bevel drive |
| Gearbox | 5 gears |
| Color | Ferrari Rosso |
| Fuel capacity (litres) | 18 |
| Weight | 202 |
| Spec. comments | Production Racer with same era modifications |
| FIVA card/ Category | No |
I am interested in the ad
Please contact me for giving me more information.
** Normally we reply the same day or the next working day. In case your answer delays, pls check also your spam folder!