Moto Guzzi V7, 750 S, Le Mans, T3, etc original starter relay NOS 12732500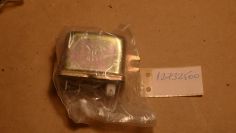 Moto Guzzi starter relay for sale
N.O.S. starter relay (COMANDO AVVIAMENTO). For all Loop Frame models such as V7 700, V7 Special, Ambassador, Eldorado, 850GT, V7 California, and Tonti frames 750S, 850 Le Mans, 1000 SP, GT, S, G5,Convert, also for small block V35/V50 models. Genuine. Moto Guzzi part number 12 73 25 00.
Price € 28
I am interested in the ad
Please contact me for giving me more information.
** Normally we reply the same day or the next working day. In case your answer delays, pls check also your spam folder!