Gilera 50 6V COMPETIZIONE number plate and tail light holder NOS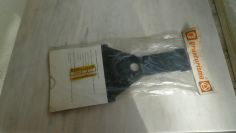 Gilera 50 6V number plate and tail light holder NOS
Original new NOS number plate and tail light holder (SUPPORTO PORTA TARGA E PORTA FANALINO) for Gilera 50 6V COMPETIZIONE model. Part no 345281. Rare. See photos.
Price € 38
I am interested in the ad
Please contact me for giving me more information.
** Normally we reply the same day or the next working day. In case your answer delays, pls check also your spam folder!