VW Karmann Ghia 1300 NOS windshield wiper blade set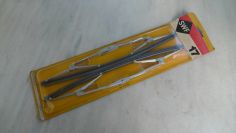 VW Karmann Ghia wiper blade set for sale
SOLD!
Volkswagen VW Karmann Ghia 1300, type 14, Opel, NSU 110, Citroen ID DS, Lancia Flavia, NOS windshield wiper blade (set of 2) made by SWF (No 17) in perfect new condition. Please see photos.
Price € -
I am interested in the ad
Please contact me for giving me more information.