Alfa Romeo Montreal "The dream.." by Bruce Taylor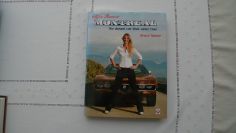 ALFA ROMEO MONTREAL The dream car that came true
"ALFA ROMEO MONTREAL The dream car that came true" By Bruce Taylor, author and VELOCE books publisher. This book is a comprehensive pictorial tribute to the Montreal. A graphic portrait of all the ...
...facets of a powerful GT coupe that is immensely enjoyable to drive, and turns heads wherever it appears. In English language. 212 pages, hard cover, in perfect new condition. ISBN 978-1-84584-218-5
Price €55
I am interested in the ad
Please contact me for giving me more information.
** Normally we reply the same day or the next working day. In case your answer delays, pls check also your spam folder!