Alfa Romeo Montreal Book by Luigi Giuliani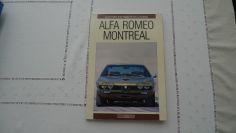 LE VETTURE CHE HANNO FATTO LA STORIA
"LE VETTURE CHE HANNO FATTO LA STORIA" By Luigi Giuliani, author and Giorgio NADA, puslisher. The first book dedicated solely to AR Montreal. First original...
...edition of 1992. Not a reprint. In Italian language.
The factory, the development, the story that came true, the production. The ultimate book for a Monty owner. VERY RARE. 98 pages, soft cover, in perfect used condition. ISBN 88-7911-072-1.
Price €190
tel. +306977268221
I am interested in the ad
Please contact me for giving me more information.