Showroom
EXCLUSIVE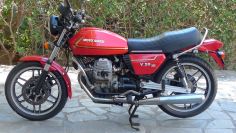 Moto Guzzi V50 III for sale
General
When De Tomaso took over Moto Guzzi in 1973, he brought over his own views on how the firm should act in order to avoid the financial dead end. Noticing that the previous management was stuck in producing only big twins with increased manufacturing cost, he instructs Lino Tonti (the firm's very capable chief engineer) to develop and produce smaller capacity twinsin order to cover that gap in the market, emphasizing in reducing costs through new production methods and automations, available at the Innocenti factory, also owned by the group.
Read more...
SOLD!
EXCLUSIVE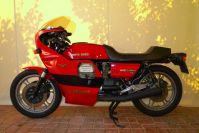 For Sale Motoguzzi Lemans II 1980
Video:
General
By 1978 it was time for an upgrade of the Le Mans series, which was introduced in 1975 with great success, creating one of the best sports bike of the decade. The effort was mainly concentrated around aerodynamics, aiming at increasing rider's wind protection and increasing top speed. Therefore, the new bodywork was designed in the well known wind tunnel, making it optically relative with the 1000 SP, Guzzi's 1000cc touring bike. New instruments, full and easy to read completed the changes. Front brake calipers were turned behind the suspension, the distance between the forks was increased and wheel base was increased by 15 mm. Apart from these, series II later introduced NiCaSil cylinder liners, a patent of Guzzi, giving cylinders greater durability.
Read more...